Your wedding day is one of the most memorable days of your life, and to ensure your guests are entertained, and remember your wedding for all the right reasons, it's vital you choose the right entertainment.
Based on its namesake, and the highly popular TV programme, Fawlty Towers; you can now bring unique comedy wedding entertainment ideas for your wedding, at your wedding venue. Surprise performance, serving your guests with pure fun and fits of laughter! Approximately 85% of the performance is improvised, whilst mingling with you and your guests. There are also some set pieces that can be arranged to suit the occasion, often as an entrance, and a grand finale. The Fawlty Towers entertainment for weddings business is the brainchild of Edmond Wells, who at 6' 7" tall, looks, sounds and personifies the best "Basil Fawlty" in the business. 1400 bookings to date in 14 different countries
John Cleese commented: "You know, you really do look like me." (See: Biography)
The Fawlty Towers wedding entertainers, Basil Fawlty, Sybil and Manuel, are pleased to quote for who, what, where, and when ever, for a real wedding icebreaker. See: Wedding Entertainment Ideas.
"I've learned that people will forget what you said, people will forget what you did, but people will not forget how you made them feel" -Maya Angelou
Contact Ed now for: Details and availability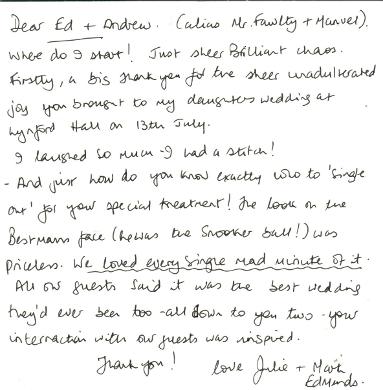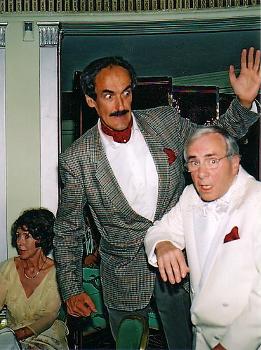 Left- Working with Andrew Sachs, the real "Manuel" at the Dorchester hotel, London.
Below- (Don't tell Sybil, that's Jane Mc Donald)!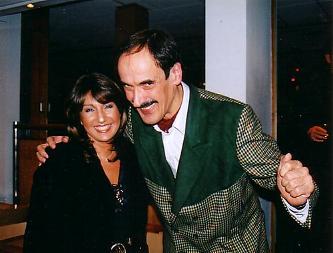 85% of the performances are interactive improvisation, with a few set pieces tailored to suit- Click video clip below: See Basil in action:
Equity member- £10,000,000 Public Liability insurance- Member of the Association for the UK School of Professional Toatmasters.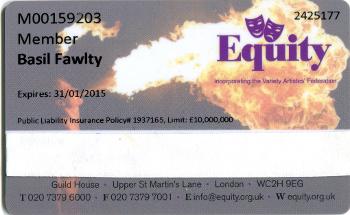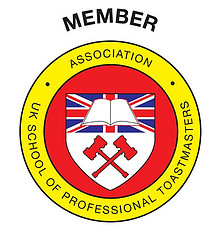 Click map below to see your home place, and anyone else who's visited, or online.
Includes: wedding entertainment Norwich and London, and comedy wedding entertainment ideas Essex and Hertfordshire.