Wedding entertainment ideas for your Fawlty Towers wedding.
There are 4 main stages for most wedding days:
1) The Wedding Ceremony.
A rare request for us, for added entertainment, as it is after all, an official and legally binding service.
We have had special requests for guiding the cars to the car park, and giving the guests a taste of things to come. See also "Specials" below, for a real surprise entrance.
(Not recommended for the faint of heart)!
2) Wedding Reception entertainment ideas
It's best to keep Basil & Co. a secret from all your guests, so "Mums the word"! It's such a delight to watch! You can see the pennies drop with your guests, whilst listening to whispers....
"Don't they just remind of you of someone?
OMG!......"
Basil would be acting as host of the venue,
welcoming the guests
, in time honoured tradition, with a choice of Manuel and Sybil, if required. Manuel could be seen doing some
last minute cleaning
, or assisting with the drinks and canapes with numerous activities with his rat. Sybil may have polished off the last 1/2 hundredweight of peppermint creams, and starting her second vat of wine;
multi-tasking
with her amorous advances to all the main male VIP's....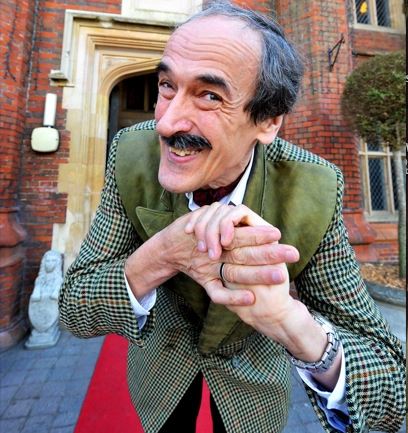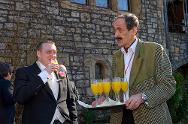 Well, where else would you find Basil Fawlty, Sybil and Manuel?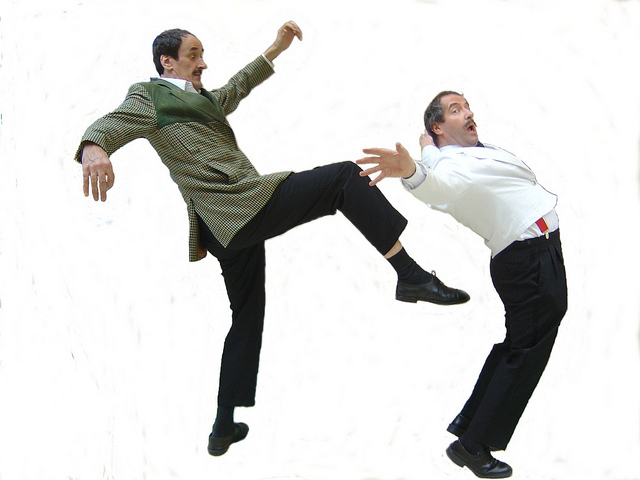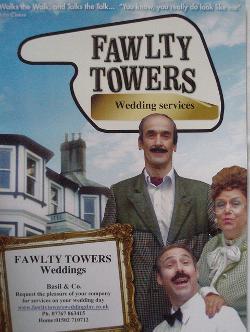 2) Wedding Reception games
Performances typically run up to 2 1/2 hrs. with options of additional hours as extras if required. Therefore most bookings cover either the reception, or the wedding breakfast. 80% of the performances are improvised entertainment, with a few set routines. so various props can be used to suit, and entertain your guests. These can range from a radio controlled rat, and a blank firing shotgun, to a puppet rat under a cloche cover, served on a plate. "Basil" is a trained
Toastmaster
, so he can announce the wedding breakfast. This has a "Fire" sketch option, with a CO2 fire extinguisher and fire alarm. This certainly moves people along. Not usual protocol for a Toastmaster, must admit, it's far more effective!...
3) Wedding Breakfast entertainment ideas (Favourite)
A brilliant way to crank up the tension and add a surprise is the serving trolley entrance. Usually no one knows, up to this point, that Basil & Co. are there. Until the food is about to be served, when a loud crash is heard in the kitchen, as if the meal is ruined as it hits the floor. A row ensues in the kitchen, followed by a resolution to scrape the food up, as it's still hot, and put it on new plates, as no one will probably notice. Basil then comes out, blagging his way out of a corner with the serving trolley and cloche cover. He makes a speech, then mentions it should be Manuel that's serving up the meal, but as usual, you just can't get the staff, and if he had his way, he would have his head on a plate. He lifts the cover, and there's Manuel's head on a plate. (Often the Best Man under the trolley, wearing a false moustache) He screams, and runs out, chased by Basil with a carving knife! 80% of the performance is interactive improvisation as table entertainment, with an occasional rat thrown in. This can reach a climax at the end of the meal when a radio controlled rat is let loose, followed up with Basil taking a shot at it with the Majors shotgun. This then leads on to a grand finale, with a Manuel, and Emmanuel recruiting competition. Three ladies and three gents are taken up to the front, dressed as waiters and waitresses, and given some simple routines. The last one involves everyone in the room singing "Viva Espania," whilst the candidates dance round the tables with merachas and sombreros.....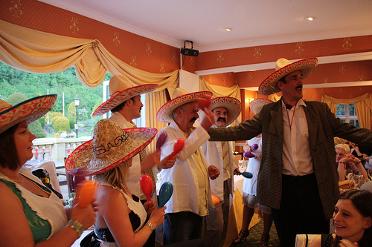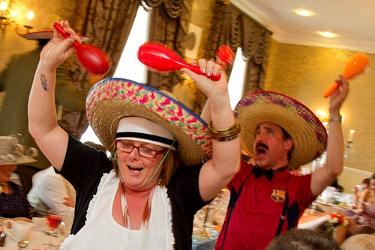 4) Evening Guests entertainment
To add entertainment for your guests in the evening, they could be met and greeted, as per the reception.
Basil & Co. are also excellent dancers, so great to get the party started on the dance floor with all your guests.
Specials
Wedding Entertainment
Contact: Edmond Wells
Mobile: +44 (0) 7767 863415
Freephone (UK) 0800 234 3039
e-mail: info@johncleese.co.uk
Call Ed Today: Fill in the Contact Form to check for availability, costings and for further information.
Fireworks: Fireworks Arcade are passionate about Fireworks! & we have many Fireworks for Sale Our knowledgeable staff are happy to help you choose the ideal Fireworks for your party of celebration... http://www.fireworksarcade.co.uk